Get a Mobile Website Today! Get More Business the Next Day!!
With 150 million Americans accessing the web from mobile phones, your inspection business can't afford NOT to provide customers with a seamless mobile browsing experience. Your traditional website is not made for Mobile Devices, especially Smart Phones. Millions of people are now browsing the web on their mobile phones every day exclusively. Smart businesses are quickly moving to the mobile web because it means more traffic, more leads and more business. Knights Software can literally get your business mobile in seconds!
EASILY CUSTOMIZABLE

Your mobile presence should be as unique as your business. Why not have a Mobile Website and an App working as one? When we create a Mobile Web App for your business, we custom design your app with logos, artwork, tab colors, icons, background colors, etc. creating a mobile browsing experience like no other.
CONNECT WITH YOUR CLIENTS

87% of Americans now own a smart phone or some other web enabled mobile device. 93% of smart phones owners use their phone for web browsing exclusively.
• Click to Call
• Press for Email
• Google Maps
• Redirect to Mobile from website.
UNRIVALED SUPPORT

Once your mobile app is built, you can manage your app yourself or leave it to us – whatever works best for you. We offer 24/7 customer support.
• Awesome Support
• 24/7 Access
• Fast Response
• Results Driven
• Real Live People
SOCIAL MEDIA INTEGRATION

Integrate your Social Media activities directly into your mobile app. Facebook, Twitter, LinkedIn, MySpace, YouTube and so much more.
• Facebook
• Twitter
• Blogger
• Youtube
MOBILE WEBSITE SAMPLE
Would you rather have your website look like the complicated one on the left or the easy to use one on the right ?
Website on the left.....LOTS OF SCROLLING and PINCHING.
Website on the right....EASY SIMPLE BUTTON navigation on any mobile/Smartphone device.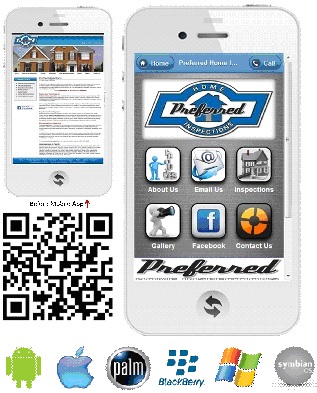 Cross Platform Compatible
PRICING

A one time setup cost of $500 to convert your current website into a mobile website containing all your current website information. A $40 per month maintenance cost.

This includes:
• Website maintenance
• No cost upgrades of newly added features
• Google Stats
• Social Media Integration
• No contract. Can cancel at any time
Knights Software Solutions training classes are available in a variety of formats. These classes are designed to help your company learn real-world skills that will revolutionize the way you manage your business with the InspectMate software. One-day training classes are offered at our headquarters in Hudson. We can also schedule a customized training class at your company location for 1 or more days depending on your needs. For pricing or more information call 715-381-1433, or e-mail us at sales@knightssoftware.com.
InspectMate Training In Our Classroom
Training classes are held on a per request basis at our office in Hudson. This one-day hands-on training class will help you acquire the knowledge and skills needed to manage your business with InspectMate.
Current scheduled classes are:

May , 2014

- A full day of training on how to use the InspectMate software. This would include TemplateMaker and QuickPicts. It will be held in the Hudson House Inn in beautiful Hudson, WI. from 9am to 4pm. Less then 30 minutes from the Minneapolis International airport. Cost is $250 per person and includes a lunch. There is a shuttle service available right from the airport to the hotel also. Please call us or send an e-mail if you are interested in signing up for this class. Call 715-381-1433, or e-mail us at sales@knightssoftware.com.
InspectMate Custom Training At Your Location
Acquire the skills you need to master InspectMate with a hands-on instructor-led training class at your office. We will come to your office for one or more days and train your entire staff on the Knights Software Inspection System. This personalized hands-on training class can be customized to meet all of your requests.
Knights Software Solutions, Inc. offers technical support on its products via phone or email. We have an experienced support staff that is not only knowledgeable in the InspectMate Software but also in home inspetion business procedures.
Additional Senior Trainer services at your office can be scheduled after your initial training. Companies use additional training to update existing staff on new company procedures, new software features and modules. Or bring in a group of new employees for basic training on InspectMate. A very specific agenda is created that targets the audience and level of InspectMate expertise that has been attained.
No other company knows software development like Knights Software Solutions. We approach InspectMate as the base software package for your company. While it should be able to handle all of your needs, company specific procedures can be added to the program. We charge on a per hour basis for custom development. Any custom development in the program will be written up on a detailed modification specification. The agreement will list the number of hours it will take to develop the feature and the delivery date. We always meet or beat the delivery date for the modification.
Knights Software Solutions, Inc. knows that one obstacle to switching to a newer inspection system is the conversion of ones own boilerplate library of comments that may have been built over many years of experience in the home inspection field. We have converted comment data that has ranged from paper check sheet forms to other software competitors in the industry. Give us a call for a quote on helping you with this task. Let our experience work for you.